Vintage Feast
If you are a poster buff make it a point to drop in at the STICK NO BILLS™ gallery in Galle and travel back in time to a golden era of glamour and drama of the silver screen. Meg and Philip James Baber live within the vibrant hues, heaving chests and colourful captions of a most unlikely sort of hobby-or to be precise, career. The owners of a gallery that specialises in one of the most unique forms of artwork today, the couple spend their time jetting in and out of the country, bidding and acquiring pieces they like to call 'investments'. For vintage posters are fast becoming a most coveted form of collectibles, with top auction house Christie's recently witnessing a triple digit incline in sales. More importantly they're downright fascinating, offering colourful glimpses of eras past.
The story behind the couple's foray into the field is a curious one, just like the posters they collect. One is an advertising and fashion photographer and the other formerly a counter-terrorism risk analyst, united by a common love for the vintage, movies and surfing. In fact it was the latter that brought them back to Sri Lanka in 2009 and down south to Galle; now they've found their home within the vibrant community of expats and locals resident in the Fort. It's certainly a strange place for Philip, the photographer in the partnership and for Meg, who spent more time up North than down South during her research phase in Sri Lanka; but the couple will tell you that the former Dutch stronghold is the perfect setting for their extensive collection of posters-dating as far back as the late 1800's right through to the 1980's.
We meet them first at The Fort Printers, a private hotel cum restaurant and gallery that now houses their extended collection. From the moment one enters, familiar faces from a golden era in cinema gaze passionately down from every wall. "It's the perfect setting for our posters, really," says Philip. "Because they're massive." Indeed they are, taking over every available wall space and providing the ideal backdrop for some interesting conversation.
A hop, skip and barely a jump away is their own small gallery, aptly named 'Stick No Bills'. You'll find everything from old tourism adverts to film posters here, offering a glimpse into the country's elegant and tranquil past. For example there's a poster for the 1971 Vijaya Kumaratunga and Malini Fonseka hit 'Abhirahasa' (Secret), which they found in the dusty attic of a film hall showing 'Adults Only' movies. "It was a real gem of a find," smiles Meg. "And we found it in such an unlikely place!"
Travel is an important part of their schedule as they find vintage posters need to be seen to be believed. Philip remembers ordering some Bollywood posters online, only to receive them in disastrous condition. "The real risk you run is getting fobbed off with a fake," they tell us. It takes an expert eye to tell an original from a reproduction, but the curator has a few handy hints for those looking to make an investment. Look for sharp small print, aged paper (the acids found in the original poster paper will turn them yellow), creases that look like they've been there for some time, and for copyright disclaimers. These will help you identify an original more often than not, say the collectors. And being able to do so is important-find an original and you might even be holding your retirement fund in your hands! (For some perspective, the international poster for Metropolis (1927) sold for $690 000 in 2005)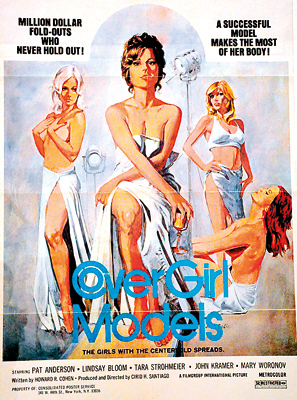 Movie posters aren't just money-making advertising ploys employed by producers-they serve a greater purpose. "They instantly freeze in time the film they depict," says Philip. "The stars, clothes, make-up, subject and typography are always symbolic of the times." Taking a walk around the Fort Printers, where the Western collection is up on the walls, you have to agree. Posters from the 50's straight through to the 70's compete for attention, every single one of them an exaggerated artistic tribute to buxom women flanking, or flanked by, men with rippling muscles and guns bigger than their heads. "I have to say the best posters come from the B-Movies," Philip laughs. "Such diligence in their attention to detail."
The majority of the collection is of movies a generation grew up with. We peer closer at a 1972 poster of Audrey Hepburn in Breakfast at Tiffany's (Hepburn looks incredible, except perhaps the strange red-hued eyes behind her sunglasses) and gaze in wonder at an exceedingly handsome John Travolta in Staying Alive ("better than he's ever looked in real life," Meg quips). The classic shark poster for Jaws, circa 1975, can still give you the chills.
And of course, there's a special place in heaven for the Bond posters, which Philip and Meg have lovingly collected since they started out. Roger Moore wields a gun in For Your Eyes Only (1981), framed by a pair of long, shapely legs. Then there's one for Moonraker and the Man with the Golden Gun. Amongst them all 'Diamonds Are Forever' holds a special place in Meg's heart-ironically because they sold her diamond engagement ring to kick-start the gallery four years ago. "It was definitely worth it," she says simply.
Stick No Bills have now opened an exhibition of what they call "the greatest collection of classic, vintage movie posters ever assembled in Sri Lanka".
The focus will be on their collection of vintage Western movie posters, which will be on exhibition at the Fort Printers, but you're more than free to step into their own space next door to peruse the more extensive collection of vintage film and travel posters from the Asian region.
By Duvindi Illankoon.